Good evening, any 4-6 boys basketball player who will be attending the Cubs pad turn can stay for basketball practice until 5:30. The OST bus will still leave at 5:00.

Good afternoon, Last year's school lunch free and reduced benefits expired on October 1. If you feel you may qualify and have not filled out an application for the current year, please call the office or download the app from the school website. Thank you.


Blood Donors Needed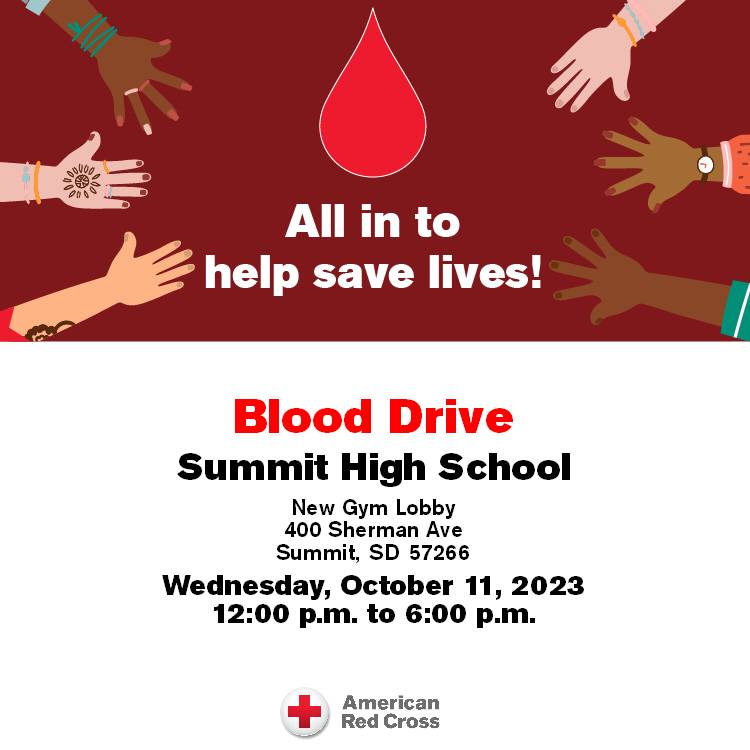 Schedule for the JH Jamboree in Waubay tonight!


There will be a JH volleyball match with Northwestern tomorrow, Thursday, September 21 starting at 5:00

JH Football Pictures TONIGHT at 4:00. Practice will be done by 5!

JH football transportation will leave Summit at 10:00 tomorrow morning. Players, if you are getting there with parents, please be there by 10:30. Schedule is attached.

Due to multiple sick kids JH Football pictures have been rescheduled to Tuesday, September 19th at 4:00pm in Summit.

Reminder: School pictures are tomorrow, Monday, September 11!

Browns Valley Jamboree on Monday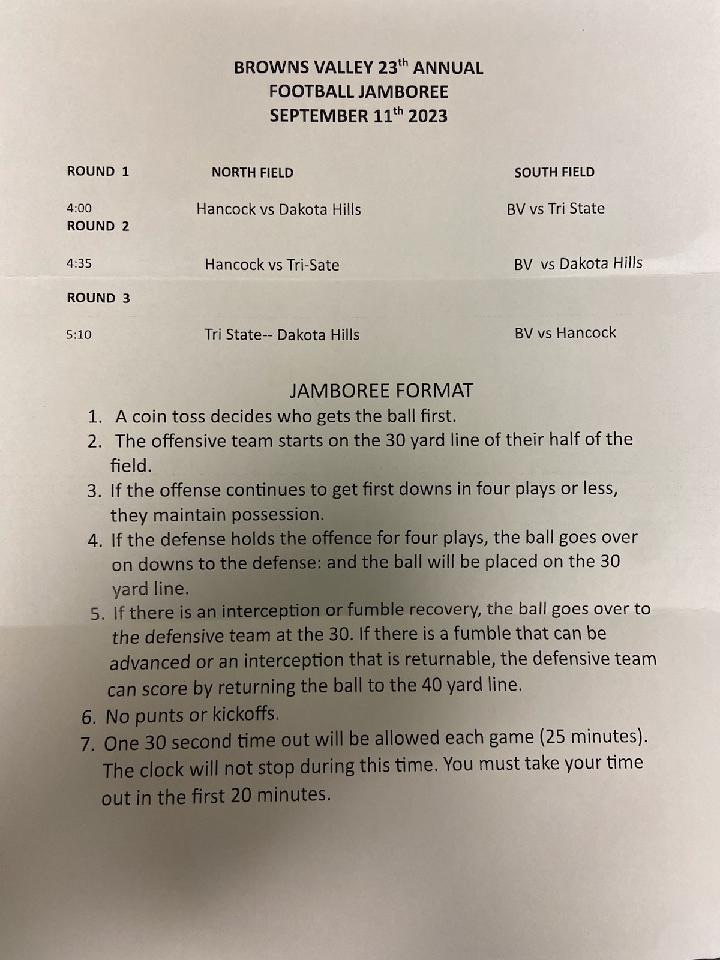 The Cubs game for tonight at Waverly is canceled! There will be practice at the normal time.

Tuesday activities: 4:00 - Cross Country at Britton. Leaving Summit at 2:00 4:00 - JH FB with Webster at Waubay. 4:00 - JH VB with Tiospa Zina at Tiospa Zina. Leaving Summit at 2:30. 6:00 - Varsity VB with Tiospa Zina at Tiospa Zina. Leaving Summit at 3:45

The schedule for tomorrow evening's volleyball match has been changed by Tiospa Zina. The JH game will take place at 4:00, followed by the JV at 6 and the varsity following. The JH will leave Summit at 2:30 and the JV/Varsity will leave at 3:30. Sorry for the late notice.

Volleyball and Cross Country Parents Night will be on Tuesday, September 12th vs. Milbank at Summit!

Here is the schedule for concessions workers and ticket takers at home games. This includes families scheduled to work in the concession stand. Please check the schedule to see when you work. If you cannot work your scheduled event, please arrange to trade nights with another family. Thank you!
https://5il.co/2305d

Junior High Football equipment checkout will be TOMORROW, Tuesday, August 15 at 6:00 in Wilmot. Transportation will leave from the front of the Summit School at 5:30.

If you are interested in being a Booster Backer and sponsoring a program advertisement, please contact a booster club member with your payment and/or information ASAP!

Good afternoon, We are still working through the new door security. Current fobs will not work. We have ordered new fobs and access will be able to be granted with blue tooth phones when the project is finished. Please bear with us; we hope to have wellness center and gym access back soon!

Junior High Football Equipment Check Out will be from 6:00 - 7:00 in Wilmot on Tuesday, August 15.