Good evening, We are in the process of updating our security system. The door fobs for the school and wellness center will be inactive until this is complete. Thank you for your patience and understanding.

Sports physicals at the Waubay Clinic this week are by APPOINTMENT only. The Waubay Clinic will not be able to take walk ins. Please have your health questionnaire form completed and signed prior to the appointment.

For the basketball camp on Friday, the session will be the grade the student will go into in 2023-2024!

REMINDER: Fall Athletic Meeting tonight in the Summit gym at 7:00 for all parents and students participating in a fall sport.

Equipment check-out for all 9-12 Grizzlies football players will be on Monday, July 31 at 7:00pm at Waubay School. (if you do not have your equipment issued already)

Fall Sports Meeting: August 1st at 7:00 PM in Summit for all 7-12 students participating in football, volleyball, cross country or football cheer. Athletes and parent/guardian must attend.

Free sports physicals for students in grades 7-12 will be offered at the Waubay Clinic the week of July 31 - August 4. If you would like to take advantage of this, call the Waubay Clinic at (605) 947-3422 to set up an appointment. Students will need a physical in order to play sports.

REMINDER: Driver's Education starts on Friday, July 28th at 8 AM! The class will run from 8:00 – 5:00 on July 28th, July 31st and August 10. The class will run from 8:00 – 12:30 on August 11.

REMINDER: Driver's Education starts on Friday, July 28th at 8 AM!

Grizzly football camp for grades 7-12 tonight in Waubay from 5:30-7:00 and tomorrow night(Wednesday) in Wilmot from 5:30-7:00.

No football 7 on 7 or football camp tonight due to the forecast.

****Note Change of location- Dakota Hills Summer Football Camp at Wilmot Field at 5PM-5:45 PM for grades 2-6th. In the previous email it was incorrect, sorry for any confusion.

The Summit School is looking for workers for upcoming games for the 2023-2024 seasons. These opportunities include table workers (scoreboard, scorebook), line judging and officiating. All of these positions are paid positions, and a person would not have to work every game. We will train you for these jobs if needed. Working at games is a great way to get involved with Mustang/Grizzly athletics! If interested, please contact Mike Schmidt at (605) 530-7561 or
mike.schmidt@k12.sd.us
.

Remind: football camp tonight at Summit: elementary from 5 to 545/high school seven on seven from 6 to 7

A huge thank you to the anonymous donor in memory of Valerie Amdahl and to all of the student /athletes of Waubay/Summit to help make this years Jr Mustang Summer Camp success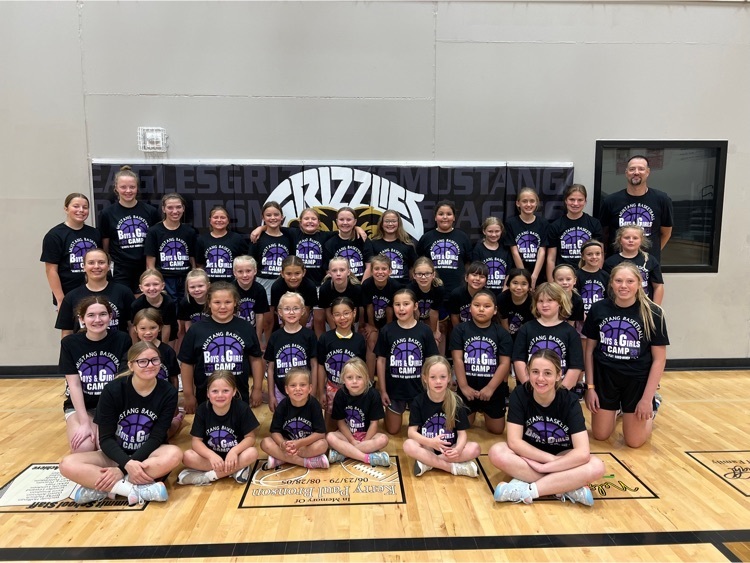 The Summit School is currently updating its files. We are required by law to keep records of 5 years or less. If you would like your school records that are older than 5 years, please stop at the school and pick them up before July 31st. After this time they will be destroyed.

Upcoming events: Monday, June 5 9:00 - 11:00- Boys basketball in Summit for athletes in grades 7-12 for the 2023-2024 school year. Monday, June 5 - 9:00 - 12:00 - Girls basketball in Waubay for athletes in grades 7-12 for the 2023-2024 school year.

You can catch the Dakota Hills Grizzlies at the state track meet! Live results and coverage can be found at
https://www.sdpb.org/hsactivities/sports/track/
Addison - 100 hurdles at 11:00 AM today. Madison - 3200 run on Friday at 9:00 AM. Eva high jump - 11:30 AM on Friday

Congratulations to Jonathan and Owen for qualifying for the State Golf Tournament

Congratulations to the following athletes for qualifying for state track: Madison in the 3200 Eva in the high jump Addison in the 100 hurdles